Boulder, Colorado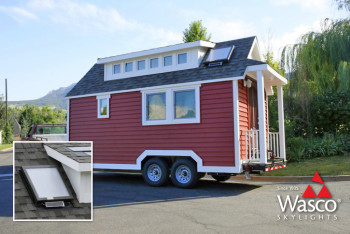 Wasco donated two EVMS skylights with polycarbonate glazing filled with Lumira® aerogel to the Plastics Make it Possible® Tiny Home project. The home focuses on the critical role plastics play in constructing a building envelope that helps to maximize energy efficiency. The EVMS was selected for its energy efficient vinyl frame and polycarbonate glazing, as well as its solar charged battery operated motor.
For more information about the project, visit the Plastics Makes it Possible site.
About the Skylight
Wasco's model EVMS solar powered venting skylight is remote operated, battery powered and solar charged. Ready to go, right out of the box – Wasco's leak free one piece unit simply attaches to the roof deck installing in 1/3 the time of the leading competitors' 26 piece unit with sticky membrane and step-flashing.
Energy Efficient – The thermally broken extruded vinyl curb frame incorporates condensation control without weep holes for maximum energy efficiency.
Meets Energy Star requirements for all climate zones.
Durable – Backed by a leak free 10 year warranty, although the E-Class will typically last as long as roof shingles. Since 1988, the E-Class series has been a trusted skylight installed in tens of thousands of applications.
Low Maintenance – The easily replaceable rechargeable battery has a typical lifespan of 10 years. The UV stable one-piece extruded vinyl Ultraseal™ water barrier and curb frame  requires no maintenance.
No Wiring Needed – Powered by a factory installed solar charged battery pack.
No Assembly Required – Simply lift the unit out of the box and fasten to the roof deck. No step flashing, caulking or sticky membranes.
Wireless Remote – A wireless radio frequency hand-held remote gives you full control of all skylight functions for multiple units.
Rain Sensor – Automatically closes the skylight in damp weather.
Up to 46% more daylight – E–Class self-flashing skylights sit on the roof deck, giving you a larger glazing area per rough opening compared to competitors.
Cost Savings – Model EVMS qualifies for 30% tax credit on both the purchase and installation, under the "Solar Electric Property" expenditures when purchased and installed prior to December 31, 2016.
Available in standard and custom sizes.
About the Glazing
Wasco skylights with Lumira® aerogel filled multiwall polycarbonate panels are the highest performing daylighting product available on the market today.
Multiwall Polycarbonate
The industry's most advanced multiwall polycarbonate sheet. This high-performance, lightweight panel maintains high clarity and provides an outstanding balance of impact strength and stiffness, excellent thermal insulation, UV protection, flame and condensation control, and long-term high light transmission.
Lumira® Aerogel
Lumira aerogel provides superior insulating capabilities. Made of a dry silica particulate, Lumira aerogel is completely recyclable, eco-friendly, non-combustible, and Cradle-to-Cradle certified. It is a lightweight insulation and daylighting solution that repels water, retains its properties under compression, and can enhance design options and aesthetics providing beautifully diffused full spectrum daylight inside the home.
UV stable multiwall polycarbonate glazing filled with Lumira aerogel
Superior thermal performance of a typical insulated glass skylight
Glare-free, full spectrum diffused light
"Green" product that's perfect for Cradle to Cradle designs
Completely moisture resistant
Will not support growth of mold, mildew, or fungus
Reduces sound transmission
Performance will not deteriorate over time