Fall Protection
Fall protection was established by OSHA to provide a safe and healthful working environment and to limit falls from workers or tools from heights of 6′ or greater. OSHA updated their General Industry (29 CFR 1910) and Construction (29 CFR 1926) fall protection regulations in 2017. The General Industry section references in 1910.28(b)(3)(i) that employees must be protected from falling through any hole (including skylights) that is 4 feet (1.2 m) or more above a lower level.
Section 1910.28(b)(3)(i)(A) list a cover as one of the means of protecting the employee from falling through the hole or skylight.
Section 1910.29(e)(1) on criteria and practices for fall protection systems provides that,"…covers must be capable of supporting, without failure, at least twice the maximum intended load that may be imposed on the cover at any one time."
OSHA also addressed fall protection for Construction in a similar way to General Industry at 1926.502(i)(2) where all "…covers or skylights shall be capable of supporting, without failure, at least twice the weight of employees, equipment, and materials that may be imposed on the cover or skylight at any one time."
Exterior safety screens are available for permanent or temporary protection:
0.19" gage 4" x 4" welded wire mesh
Adjustment range of 4" in width for easy installation
Allows to be installed with no penetration of skylight
SAFETY CONSIDERATIONS: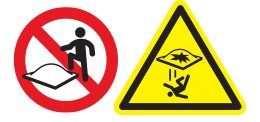 Skylights pose an inherent risk of injury or death from fall throughs, and the safety of others is of the utmost importance to VELUX.  VELUX recommends that the customer, building owner or manager use additional protection with the skylight such as an exterior or interior safety cage, to enhance long-term safety.  The building owner or manager is responsible for providing fall protection around the skylight in accordance with OSHA regulations.  VELUX also recommends that the building owner or manager restrict roof access only to personnel who have been cautioned as to the location of the skylights, and warned not to sit, step or walk on the skylights.