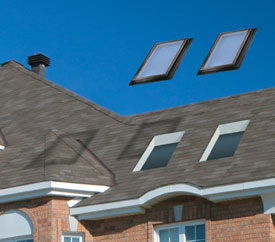 Wasco E-Class self-flashing and G-Series curb mount skylights drop right on your existing opening saving you time and money!
No reframing of the opening
No sheet rocking
Little or no painting or trim work
Installs in 1/3 the time!*
Wasco follows the standard US sizing system
*E-Class Models
When the homeowner is going to re-roof a home, this is the best time to replace an older skylight with a new energy-efficient Wasco skylight.

Wasco's standard flat glass high performance skylight that meets Energy Star requirements in all states. When the skylight is a plastic dome, Wasco recommends replacing it with a flat glass skylight. The Wasco eMax3 series uses Cardinal Low-e 366 glass which is excellent energy performance and comes with a 20 year warranty.
Skylight Replacement Guide: Find out how to correctly measure for replacement skylights.
Download PDF
Search for a residential dealer or certified installer.
E-CLASS Self-flashing Skylights



Our energy-efficient E-Class™ self-flashing skylights are for use with thin roofing materials such as composition, slate, wood shingles and shakes up to 3/4″ thick. For low profile 1″ standing seam metal roofs, an adapter is available.
g-series CURB MOUNT Skylights



If you have curb mount applications in place, Wasco offers another easy option to update your skylights. It is possible to keep the existing curb and replace the skylight on top of it. Here are some of the outstanding features of Wasco's G-Series™ skylights…
Well-suited to thick roofing materials such as clay tile, concrete and standing seam metal roofs.
Choose Motorized Venting, Manual Venting or Fixed models with glass or acrylic domes, in standard and custom sizes
Many glazing options available including hurricane-resistant and electronically tintable glass
Rugged, one-piece Permatherm® Vinyl Curb reduces thermal conductivity and condensation without weep holes
Built-in condensation channel controls indoor moisture in higher humidity areas
Co-extruded Weather Gasket ensures minimal air infiltration
Protective aluminum retainer with durable Quaker Bronze enamel finish. Also available in designer colors or copper cladding
Economical units using site-built curbs (min. 3 in 12 pitch)
Integral Nailing Sill for fast and easy installation