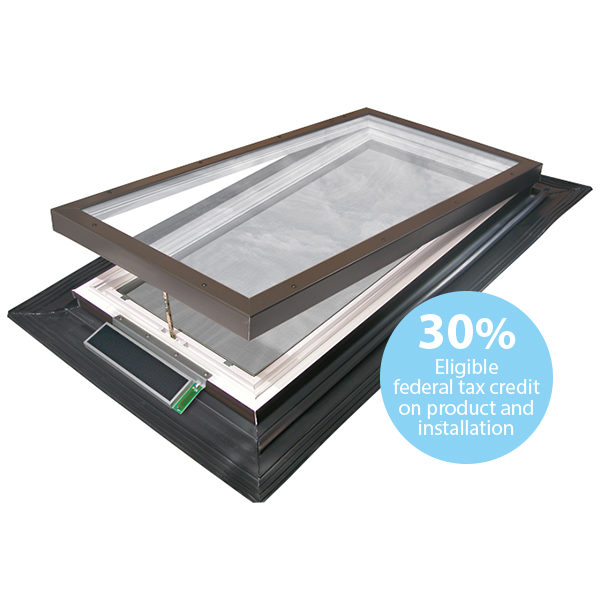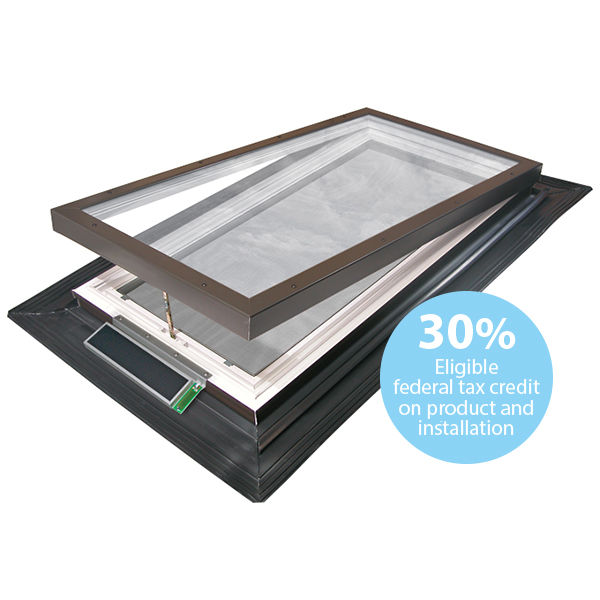 Solar Powered Venting Skylight
EVMS – Self-Flashed Deck Mount
Remote Operated • Battery Powered • Solar Charged
No Wiring Needed – Powered by a factory installed solar charged battery pack
No Assembly Required – Simply lift the unit out of the box and fasten to the roof deck
Energy Efficient – Condensation control without weep holes for maximum energy efficiency
Wireless Remote – A wireless RF hand-held remote gives you full control of all skylight functions for up to 81 units
Rain Sensor – Automatically closes the skylight in damp weather
30% Federal Tax Credit on both the purchase and installation of this solar powered model!
Our solar venting E-Class® model (EVMS) Skywindow® is ready to go right out of the box – no mastic, no step-flashing, no sealants. Our one-piece curbframe and Ultraseal® flashing design cuts 90 minute installation to 30 minutes!1 Plus, Wasco E–Class skylights deliver up to 46% more daylight!2 Our E–Class self-flashing skylights sit directly on the roof deck, giving you a larger glass area per rough opening compared to competitor. Backed by a 10 Year Leak Free Warranty.
Standard and custom sizes.
Wide range of accessories, glazings, and finish color options.
Condensation control without the use of weep holes for maximum energy efficiency.
Thermally broken vinyl curb frame.
Deck-mount – for use with thin roofing materials up to 3/4″ thick. such as composition, slate or wood shingles and shakes.
Minimum 3:12 roof pitch.
(1) Compared to the leading competitor.  (2) Venting models.

Find a Dealer
Login or Register

to Save Documents to Binder
Standard Sizes

Performance Data

Glazes and Finishes

Videos

30% Federal Tax Credit
EVMS2222
EVMS2230
EVMS2238
EVMS2246
EVMS2254
EVMS3030
EVMS3046
EVMS3054
EVMS4646
Rough Opening
22.5″ X 22.5″
22.5″ X 30.5″
22.5″ X 38.5″
22.5″ X 46.5″
22.5″ X 54.5″
30.5″ X 30.5″
30.5″ X 46.5″
30.5″ X 54.5″
46.5″ X 46.5″
Daylight Area
20.625″ X 20.625″
20.625″ X 28.625″
20.625″ 36.625″
20.625″ X 44.625″
20.625″ X 52.625″
28.625″ X 28.625″
28.625″ X 44.625″
28.625″ X 52.625″
44.625″ X 44.625″
Daylight Opening
(Square Feet)

2.95
4.1
5.25
6.39
7.54
5.69
8.87
10.46
13.83
Custom-sized E-Class self-flashing skylights are also available. Contact your local residential dealer or call 800-888-3589.
NOTE: For all rectangular units, specify dimension parallel to roof ridge first (width).
Thermal Performance NFRC Values*
EVMS Solar Venting
U-Factor
SHGC
VT
Tempered (EMT)
0.49
0.25
58%
Laminated (EML)
0.48
0.25
57%
White Laminated (EMLW)
 0.49
 0.24
 41%
Explanation of Terms:
VT (Visible Light Transmission): Radiant energy from 380nm – 780nm wavelengths. (% Transmittance): percentage of visible light directly transmitted through glass. U-Factor Air-to-air thermal conductance of glass and associated air/gas layers; units are Btu/hr.ft2 deg F. SHGC (Solar Heat Gain Coefficient): Fraction of solar energy transferred indoors both directly (radiation) and indirectly (convection/absorption/re-radiation) through the glass (for reference, 1/8″ clear glass has a SHGC of 0.86). 
*Thermal performance factors per NFRC 100. (1) Center of Glazing.
Finish Colors
The standard baked enamel finish for all E-Class® Skylights is Quaker Bronze. Nine additional designer colors are available. Colors are shown below, approximated by computer display colors. Copper cladding is available on some units.

Glazing Options
eMAX3 Triple Silver Coated Glazing
Wasco's standard glazing. eMAX3 is an energy efficient tempered over tempered glazing (EMT) which meets the version 6.0 Energy Star program for all climate zones. The eMAX3 Triple Silver Coated Series is a high performance Low-E insulated tempered glass with argon. Also available with tempered over laminated glass (EML).
White Laminated (EMLW)
White laminated glass features diffused lighting and energy efficiency with a thin opaque film laminated between two sheets of glass. It provides total privacy with a frosted translucent look. White laminated glass provides added safety and protection from damaging UV rays.
Guide to Receive Your Federal Tax Credit
Background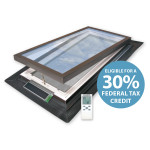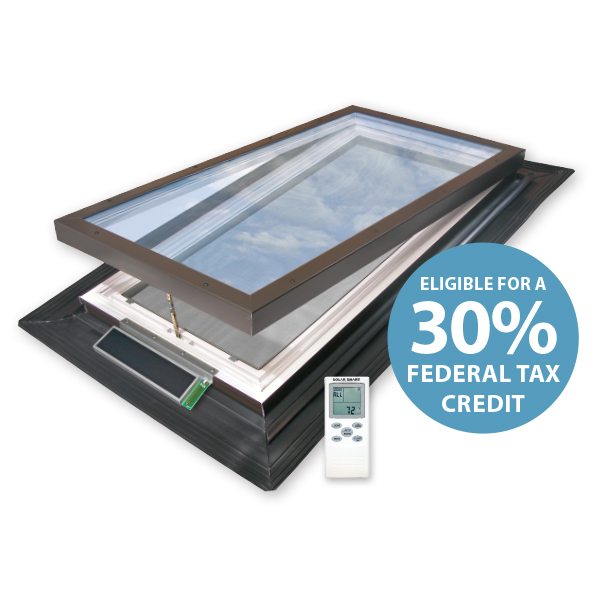 Under two laws – the Emergency Stabilization Act of 2008 and American Recovery and Reinvestment Act of 2009 (ARRA) – Wasco Solar Powered Model EVMS qualify under "Solar Electric Property" expenditures when purchased and installed from January 1, 2009 through December 31, 2019 (26% in 2020, 22% in 2021). This tax credit is a direct debit of the taxpayers total tax liability. The combined effect of these two laws provides a 30% Tax Credit on both the purchase and installation of qualifying products in renewable technologies such as; Solar Electric Property, Residential Solar Water Heating, Qualified small wind energy and qualified Geothermal Heat pump energy as well as others.
What You Should Do
After Installation
Keep your receipts for total price paid (invoice from contractor for product and installation) of the qualifying Wasco products.
Attach receipts to a completed Manufacturers Certification Statement1 and keep for your records (Download Statement).
When Filing Your Taxes
Fill out the IRS Residential Energy Efficient Property Credit tax form 5695 (under "Qualified solar electric property cost")
Submit it with your taxes. Enter this tax credit off of form 5695 on your IRS tax form 10402 (tax forms can be found at www.irs.gov).
1 IRS Notice 2009-41 suggests the taxpayer is not required to attach this certification statement to their tax return. However, the taxpayer should retain this certification statement as part of their tax records.
2 As in all tax matters, the taxpayer is advised to consult their tax professional. Wasco Products, Inc. assumes no liability regarding the homeowner's ability to obtain tax credits.