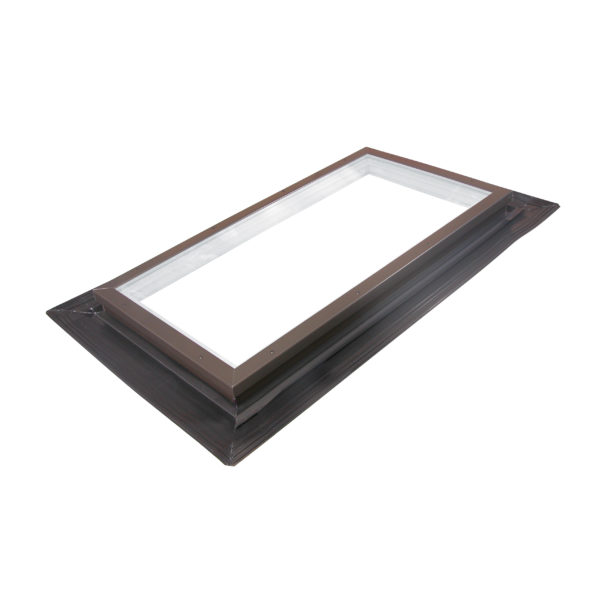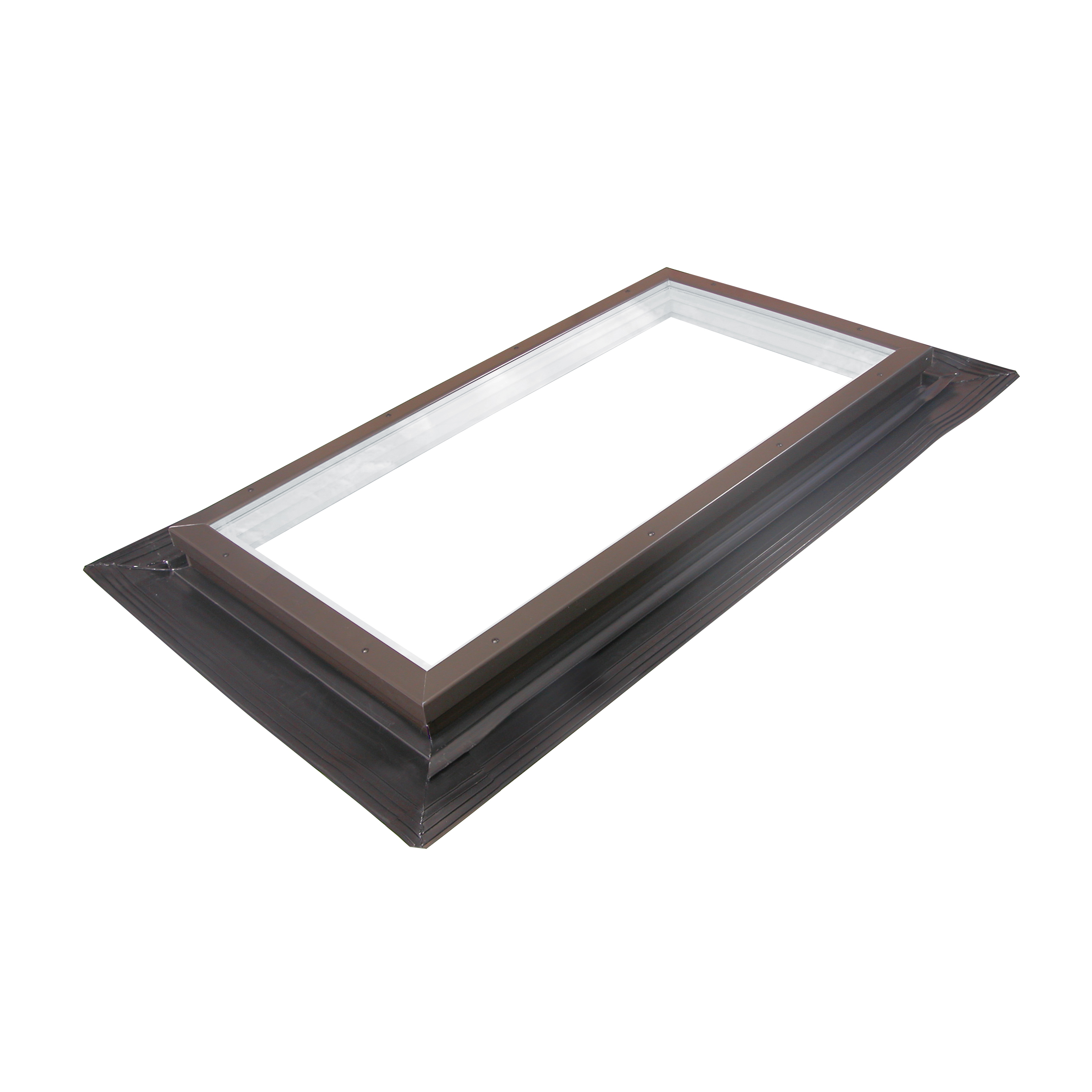 Fixed Skylight
EF – Self-Flashed Deck Mount
Our fixed E-Class® model (EF) Skywindow® is ready to go right out of the box – no mastic, no step-flashing, no sealants. Our one-piece curbframe and Ultraseal® flashing design cuts 90 minute installation to 30 minutes!1 Plus, Wasco E–Class skylights deliver up to 22% more daylight!2 Our E–Class self-flashing skylights sit directly on the roof deck, giving you a larger glass area per rough opening compared to competitor. Backed by a 10 Year Leak Free Warranty.
Standard and custom sizes.
Wide range of accessories, glazings, and finish color options.
Condensation control without the use of weep holes for maximum energy efficiency.
Thermally broken vinyl curb frame.
Deck-mount – for use with thin roofing materials up to 3/4″ thick. such as composition, slate or wood shingles and shakes.
Minimum 3:12 roof pitch.
(1) Compared to the leading competitor.  (2) Fixed models.

Find a Dealer
Login or Register

to Save Documents to Binder
Standard Sizes

Performance Data

Glazes and Finishes

Videos
EF1430
EF1446
EF2222
EF2230
EF2238
EF2246
EF2254*
EF3030
EF3046
EF3054*
EF4646
Rough Opening
14.5" X 30.5″
14.5″ X 46.5″
22.5″ X 22.5″
22.5″ X 30.5″
22.5″ X 38.5″
22.5″ X 46.5″
22.5″ x 54.5″
30.5″ X 30.5″
30.5″ X 46.5″
30.5″ X 54.5″
46.5″ X 46.5″
Daylight Area
13.125" X 29.125″
13.125″ X 45.125″
21.125″ X 21.125″
21.125″ X 29.125″
21.125″ X 37.125″
21.125″ X 45.125″
21.125″ X 53.125″
29.125″ X 29.125″
29.125″ X 45.125″
29.125″ X 53.125″
45.125″ X 45.125″
Daylight Opening
(Square Feet)

2.65
4.11
3.09
4.27
5.45
6.61
7.79
5.89
9.12
10.74
14.14
Custom-sized E-Class self-flashing skylights are also available. Contact your local residential dealer or call 800-888-3589.
* Not available with impact glazing (HR).
NOTE: For all rectangular units, specify dimension parallel to roof ridge first (width).
Thermal Performance NFRC Values*
EF Fixed
U-Factor
SHGC
VT
Tempered (EMT)
0.49
0.25
58%
Laminated (EML)
0.45
0.25
58%
Impact (HR)
0.45
0.25
57%
White Laminated (EMLW)
0.46
 0.24
41%
Explanation of Terms:
VT (Visible Light Transmission): Radiant energy from 380nm – 780nm wavelengths. (% Transmittance): percentage of visible light directly transmitted through glass. U-Factor Air-to-air thermal conductance of glass and associated air/gas layers; units are Btu/hr.ft2 deg F. SHGC (Solar Heat Gain Coefficient): Fraction of solar energy transferred indoors both directly (radiation) and indirectly (convection/absorption/re-radiation) through the glass (for reference, 1/8″ clear glass has a SHGC of 0.86).
*Thermal performance factors per NFRC 100. (1) Center of Glazing.
Finish Colors
The standard baked enamel finish for all E-Class® Skylights is Quaker Bronze. Nine additional designer colors are available. Colors are shown below, approximated by computer display colors. Copper cladding is also available.

Glazing Options
eMAX3 Triple Silver Coated Glazing
Wasco's standard glazing. eMAX3 is an energy efficient tempered over tempered glazing (EMT) which meets the version 6.0 Energy Star program for all climate zones. The eMAX3 Triple Silver Coated Series is a high performance Low-E insulated tempered glass with argon. Also available with tempered over laminated glass (EML)
White Laminated (EMLW)
White laminated glass features diffused lighting and energy efficiency with a thin opaque film laminated between two sheets of glass. It provides total privacy with a frosted translucent look. White laminated glass provides added safety and protection from damaging UV rays.
Impact Resistant (HR)
Available in standard sizes for E-Class fixed model EF. Wasco Skylights with impact glazing meet IBC/IRC/FBC and other stringent state building codes for skylights installed in Wind Zone 3 coastal applications (FL#14417.9). Hurricane resistant glass appears to be ordinary glass, but shields against damage from wind-borne debris, accidental impacts, forced entry and even unwanted noise.