Wells, Maine
AEROGEL applied to skylights provides SUPERIOR thermal performance.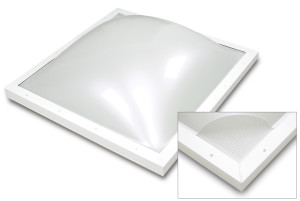 Today, two companies, Wasco Skylight Products and Evonik Cyro, announced a partnership and, together, unveiled a revolutionary new green, glare-free unit skylight that bathes the space in natural diffused light. Known as EcoSky3, these skylight units offer superior thermal performance for cradle to cradle designs by incorporating a 10mm Lumira™ Aerogel filled multiwall polycarbonate panel combined with a thermoformed sheet of ACRYLITE® Satinice.
Wasco's Lumira™ Aerogel is a major breakthrough in insulating technology. It provides a tremendous thermal insulator that is also environmentally sound. The gel permanently stops connective, conductive, thermal transfer without an appreciable drop in light transmission.
Evonik Cyro's ACRYLITE® Satinice is an innovative acrylic sheet that is impact modified, infrared blocking, light diffusing, and 100% haze white.
"This partnership with Evonik Cyro, and the unveil of EcoSky3, makes us a pioneer in the green skylighting businesses, and is a strategic next step for Wasco as we broaden our extensive range of solar and daylight solutions available for commercial and residential installation," said Jeff Frank, CEO of Wasco. "This relationship comes on the heels of Wasco's partnership with Parans Solar Lighting, and is part of our effort to expand lighting product offerings in the realm of green and energy efficient design and construction."
The EcoSky3 skylight will be showcased at the 2012 Greenbuild International Expo, the world's largest expo devoted to green building.  Attendees who visit Wasco's booth will view the EcoSky3 units firsthand, and learn more about applications for environmentally friendly industrial design and building projects.
For more information about this new partnership and the new EcoSky3 unit skylight product, visit Wasco's booth (#414S) at the Greenbuild International Expo, Moscone Center, San Francisco, California on November 14 and 15, 2012.