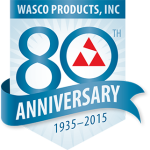 Wells, Maine: Made in the USA since 1935, Wasco is the oldest and largest skylight manufacturer in the industry. Now with two locations serving the entire country, with its home office in Wells, ME and a new western facility in Reno NV, putting it less than 24 hours away from any major city in the western US. Wasco has a very extensive product offering from small, standardized residential units to large, custom, monumental glass structures… and everything in between.
"Wasco could never have thrived for 80 years without the unwavering commitment to quality from all our Wasco employees, past and present. They keep the proud legacy of American craftsmanship alive every day. It is with deep appreciation for them we celebrate this important milestone." says Jeff Frank, Wasco CEO.
Wasco is a cutting edge technology provider, with the nation's most comprehensive line of green, energy efficient daylighting solutions available today. From fiber optic daylighting technology, Lumira® aerogel, electronically tintable glass, translucent insulated glass, and photovoltaics.