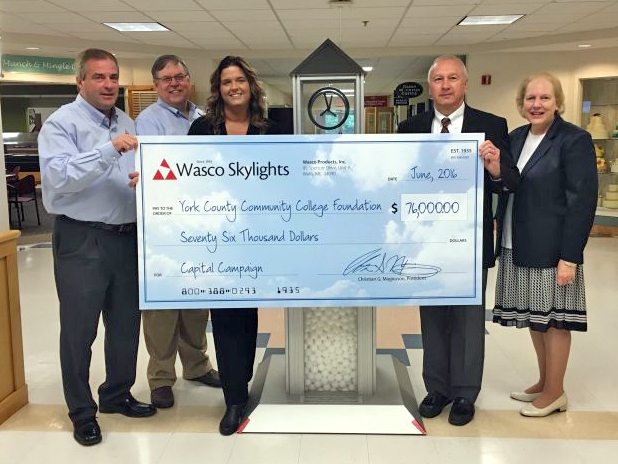 Wasco CEO, Jeff Frank; Wasco COO, Sara Havard; and Wasco's President, Christian Magnuson presented York County Community College (YCCC) President, Dr. Barbara Finkelstein and York County Community College Foundation (YCCCF) Chair, Marc Brunelle with a gift of $76,000 in support of YCCC's Capital Campaign for its new academic building.
"Wasco's support of YCCC is based in the belief that access to an affordable, quality higher education is essential to workforce and economic development as well as life enrichment." said Chris Magnuson.
The College has outgrown its current 78,000 square foot building which opened its doors in 1995.  The new building will provide much-needed instructional space through eight state-of-the-art classrooms, independent and group study areas and a Developmental Mathematics and English Lab. The building will house a 140 seat lecture/performance hall and attached flexible classroom/backstage area allowing the College to hold larger classes as well as host community events.
The YCCC "Changing Lives & Strengthening Community" Campaign is now in its public fundraising phase. For more information about the campaign or to make a donation please visit www.yccc.edu.