Wasco's Curb Mount skylights feature a thermally broken vinyl curb frame for outstanding energy efficiency longevity, compared to other skylights with wooden and metal curb frames.
Wasco offers a wide range of energy efficient glazings including clear glass, electronically tintable glass, and translucent light diffusing Aerogel insulated polycarbonate panels.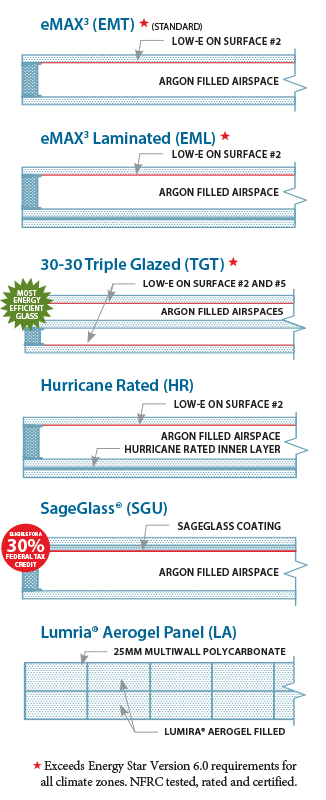 eMAX3 Triple Silver Coated Glazing
Wasco's standard glazing. eMAX3 is an energy efficient glazing which meets the version 6.0 Energy Star program for all climate zones. The eMAX3 Triple Silver Coated Series is a high performance Low-E insulated glass with argon. Also available with laminated glass (EML).
30-30 Triple Glazed Series
Wasco's most energy efficient glass glazing that meets the version 6.0 Energy Star program for all climate zones. 30-30 Triple Glazed is a triple-paned glass with two argon filled airspaces that provides up to 55% greater insulating value than double-paned skylights with ordinary glass.
SageGlass®
SageGlass® is advanced dynamic glass that is electronically tintable and provides a beautiful and cost-effective way to optimize and control sunlight without blinds or shades, so you can manage glare and heat while maintaining a view to the outdoors. The solar charged battery powered system is factory installed and wireless. Multiple units can be grouped into zones. Simply download the free app to your mobile device!
• Eligible for a 30% Federal Tax Credit for Cost of Unit and Installation
• Controls Heat and Glare, Reduces Fading
• Eliminates Need for Shades, Blinds and Louvers
• Improves Home Energy Efficiency
• Wireless – Powered by a Solar Charged Battery
• Remote Controlled with Your Mobile Device
• Offered in Select Standard Sizes
Lumira® Aerogel
Wasco skylights with translucent light diffusing Lumira Aerogel filled polycarbonate panels are the highest performing daylighting product available on the market today. Adapting nano technology, Lumira is able to provide a tremendous thermal insulator that is also environmentally sound. Lumira permanently stops connective, conductive, and thermal transfer without an appreciable drop in light transmission.
Wasco also offers Hurricane Resistant (GSHR) glazing that meets Dade County, IBC/IRC/FBC and other stringent state building codes for skylights installed in Wind Zone 3 coastal applications. Hurricane resistant glass appears to be ordinary glass, but shields against damage from wind-borne debris, accidental impacts, forced entry and even unwanted noise.
Thermal performance factors per NFRC 100
Model GS Curb-Mount
VLT
U-Factor
SHGC
eMAX31
63%
0.49
0.27
eMAX3 Laminated1
62%
0.48
0.27
30-30 Triple Glazed1
46%
0.33
0.23
Lumira Aerogel2
49%
0.16
0.54
SageGlass2: Clear
60%
0.28
0.41
Intermediate State 2
18%
0.28
0.15
Intermediate State 1
6%
0.28
0.10
Fully Tinted
1%
0.28
0.09
1Total Unit. 2Center of Glazing.
Explanation of Terms:
VLT (Visible Light): Radiant energy from 380nm – 780nm wavelengths. (% Transmittance): percentage of visible light directly transmitted through glass.
U-Factor: Air-to-air thermal conductance of glass and associated air/gas layers; units are Btu/hr.ft2 deg F.
SHGC (Solar Heat Gain Coefficient): Fraction of solar energy transferred indoors both directly (radiation) and indirectly (convection/absorption/re-radiation) through the glass (for reference, 1/8″ clear glass has a SHGC of 0.86).