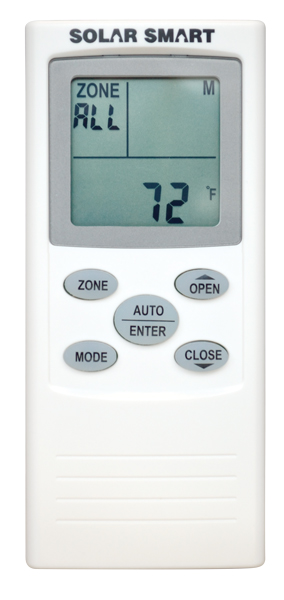 Solar Smart Remote Control
Used with Solar Smart Motor Systems Only
A Solar Smart remote is included with the purchase of all EVMS or GSVMS model skylights. If the included remote is lost or damaged, contact Wasco Customer Service or call 800-388-0293 to order a replacement.
The Solar Smart wireless RF hand-held remote gives you full control of all skylight functions for up to 81 units. A minimum of one remote is required for skylight operation.
Large and readable bi-directional feedback display
Open / Close status displayed as percentage
Operator and Remote battery level displayed as percentage
Solar charge rate displayed in Milliampere (mA)
Temperature display
Automatic thermostat operation
9 Programmable zones with up to 9 skylights assigned to a single zone
Multiple remotes can be used and easily synced by transferring information from the Main Remote to the Secondary Remote(s)
The Solar Smart remote cannot be used with LWS Motor Kit – see LWS Remote Control.
Get a Quote