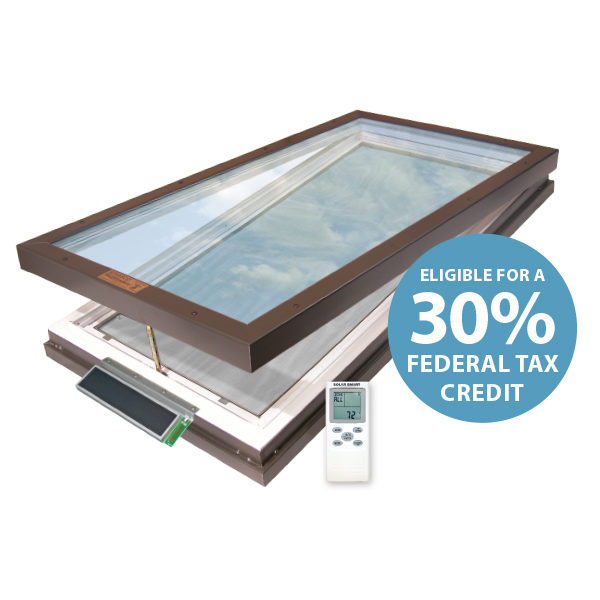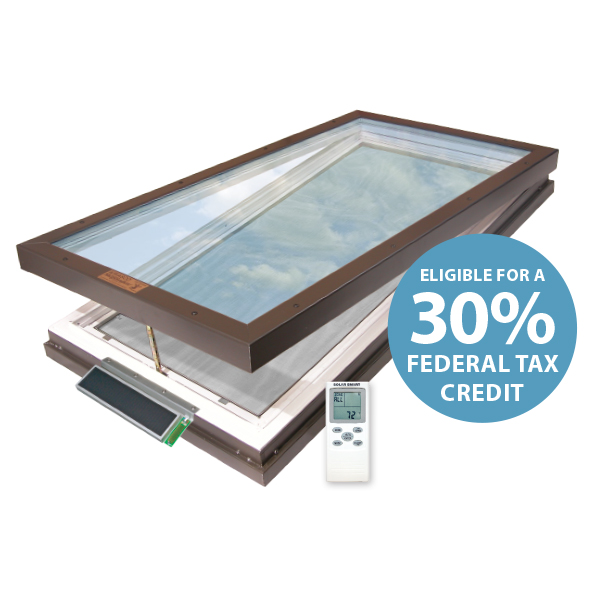 Solar Powered Motorized Venting (GSVMS)
Residential Skylights for Curb Mount Applications
Remote Operated • Battery Powered • Solar Charged
No Wiring Needed – Powered by a factory installed solar charged battery pack
No Assembly Required – Simply lift the unit out of the box and fasten to the roof deck
Energy Efficient – Condensation control without weep holes for maximum energy efficiency
Wireless Remote – A wireless RF hand-held remote gives you full control of all skylight functions for up to 81 units
Rain Sensor – Automatically closes the skylight in damp weather
30% Federal Tax Credit on both the purchase and installation of this solar powered model!
Let the fresh air in! Our motorized venting curb mount GSVMS model is designed to be used on a site-built curb. Curb mounted skylights consist of an insulated glass sealed between a thermally efficient, maintenance free, vinyl curb frame and an aluminum outer retainer frame. Wasco flashing (shingle and tile roofs only) is installed around the site-built curb. The skylight is then mounted onto the flashed curb and fastened into place.
SkyBlinds and other accessories are available. The GSVMS model is available in standard sizes, with a wide range of  finish color options and glazings that meet Energy Star requirements in all states.
Outstanding performance for tile or metal roofs as well as wood shingle and shake, or common asphalt or fiberglass shingles
Well-suited to thick roofing materials such as clay tile and concrete
Rugged, one-piece Permatherm® Vinyl Curb reduces thermal conductivity and condensation
Built-in condensation channel controls indoor moisture in higher humidity areas
Co-extruded Weather Gasket ensures minimal air infiltration
Protective aluminum retainer with durable enamel finish
Integral Nailing Sill for fast and easy installation
Standard sizes fit 16″ and 24″ on-center roof rafters
For use with curb and flashing. Minimum 3½" curb height required
Minimum 3″ in 12″ roof pitch recommended
Not for vertical applications
Find a Dealer
Login or Register

to Save Documents to Binder
Standard Sizes

Glazes and Finishes

30% Federal Tax Credit
| | | | | | | | | | |
| --- | --- | --- | --- | --- | --- | --- | --- | --- | --- |
| | GSV2222 | GSV2230 | GSV2238 | GSV2246 | GSV2254 | GSV3030 | GSV3046 | GSV3054 | GSV4646 |
| Outside Curb Dimension | 25.5″ X 25.5″ | 25.5″ X 33.5″ | 25.5″ X 41.5″ | 25.5″ X 49.5″ | 25.5″ X 57.5″ | 33.5″ X 33.5″ | 33.5″ X 49.5″ | 33.5″ X 57.5″ | 49.5″ X 49.5″ |
| Daylight Area | 20.625″ X 20.625″ | 20.625″ X 28.625″ | 20.625″ X 36.625″ | 20.625″ X 44.625″ | 20.625″ X 52.625″ | 28.625″ X 28.625″ | 28.625″ X 44.625″ | 28.625″ X 52.625″ | 44.625″ X 44.625″ |
| Daylight Opening (Square Feet) | 2.95 | 4.10 | 5.25 | 6.39 | 7.54 | 5.69 | 8.87 | 10.46 | 13.83 |
Custom sizes are available. Contact your local residential dealer or call 800-388-0293.
Curb dimensions based upon 1½" thickness. Both the rough opening and outside curb dimension must be adhered to for proper fit.
Finish Colors
The standard baked enamel finish for all Curb Mount Skylights is Quaker Bronze. Nine additional designer colors are available, as well as copper cladding.

Glazing Options
eMAX3 Triple Silver Coated Glazing
Wasco's standard glazing. eMAX3 is an energy efficient tempered over tempered glazing. The eMAX3 Triple Silver Coated Series is a high performance Low-E insulated tempered glass with argon. Also available with tempered over laminated glass.
Hurricane Resistant
See fixed model GSHR. Wasco® Skylights with hurricane-resistant glazing meet IBC/IRC/FBC and other stringent state building codes for skylights installed in Wind Zone 3 coastal applications. Hurricane resistant glass appears to be ordinary glass, but shields against damage from wind-borne debris, accidental impacts, forced entry and even unwanted noise.
Guide to Receive Your Federal Tax Credit
Background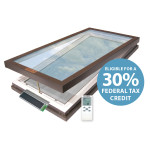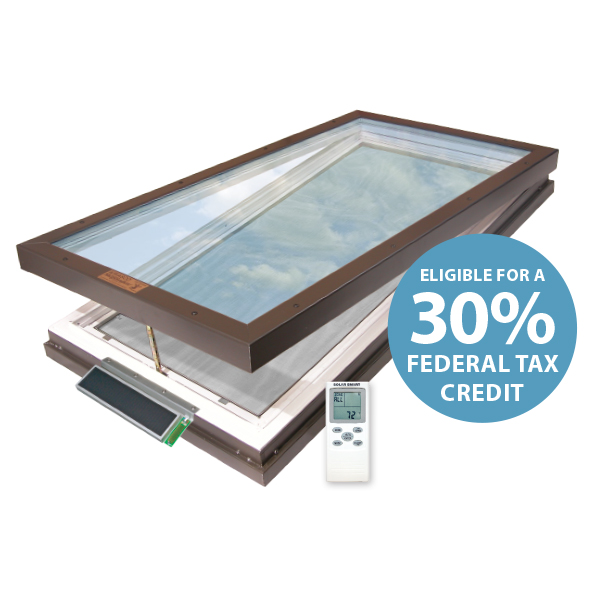 Under two laws – the Emergency Stabilization Act of 2008 and American Recovery and Reinvestment Act of 2009 (ARRA) – Wasco Solar Powered Model GSVMS qualifies under "Solar Electric Property" expenditures when purchased and installed from January 1, 2009 through December 31, 2016 (26% in 2020, 22% in 2021). This tax credit is a direct debit of the taxpayers total tax liability. The combined effect of these two laws provides a 30% Tax Credit on both the purchase and installation of qualifying products in renewable technologies such as; Solar Electric Property, Residential Solar Water Heating, Qualified small wind energy and qualified Geothermal Heat pump energy as well as others.
What You Should Do
After Installation
Keep your receipts for total price paid (invoice from contractor for product and installation) of the qualifying Wasco products.
Attach receipts to a completed Manufacturers Certification Statement1 and keep for your records (Download Statement).
When Filing Your Taxes
Fill out the IRS Residential Energy Efficient Property Credit tax form 5695 (under "Qualified solar electric property cost")
Submit it with your taxes. Enter this tax credit off of form 5695 on your IRS tax form 10402 (tax forms can be found at www.irs.gov).
1 IRS Notice 2009-41 suggests the taxpayer is not required to attach this certification statement to their tax return. However, the taxpayer should retain this certification statement as part of their tax records.
2 As in all tax matters, the taxpayer is advised to consult their tax professional. Wasco Products, Inc. assumes no liability regarding the homeowner's ability to obtain tax credits.