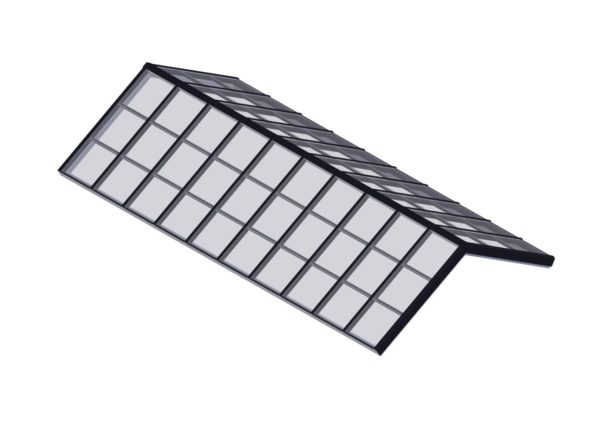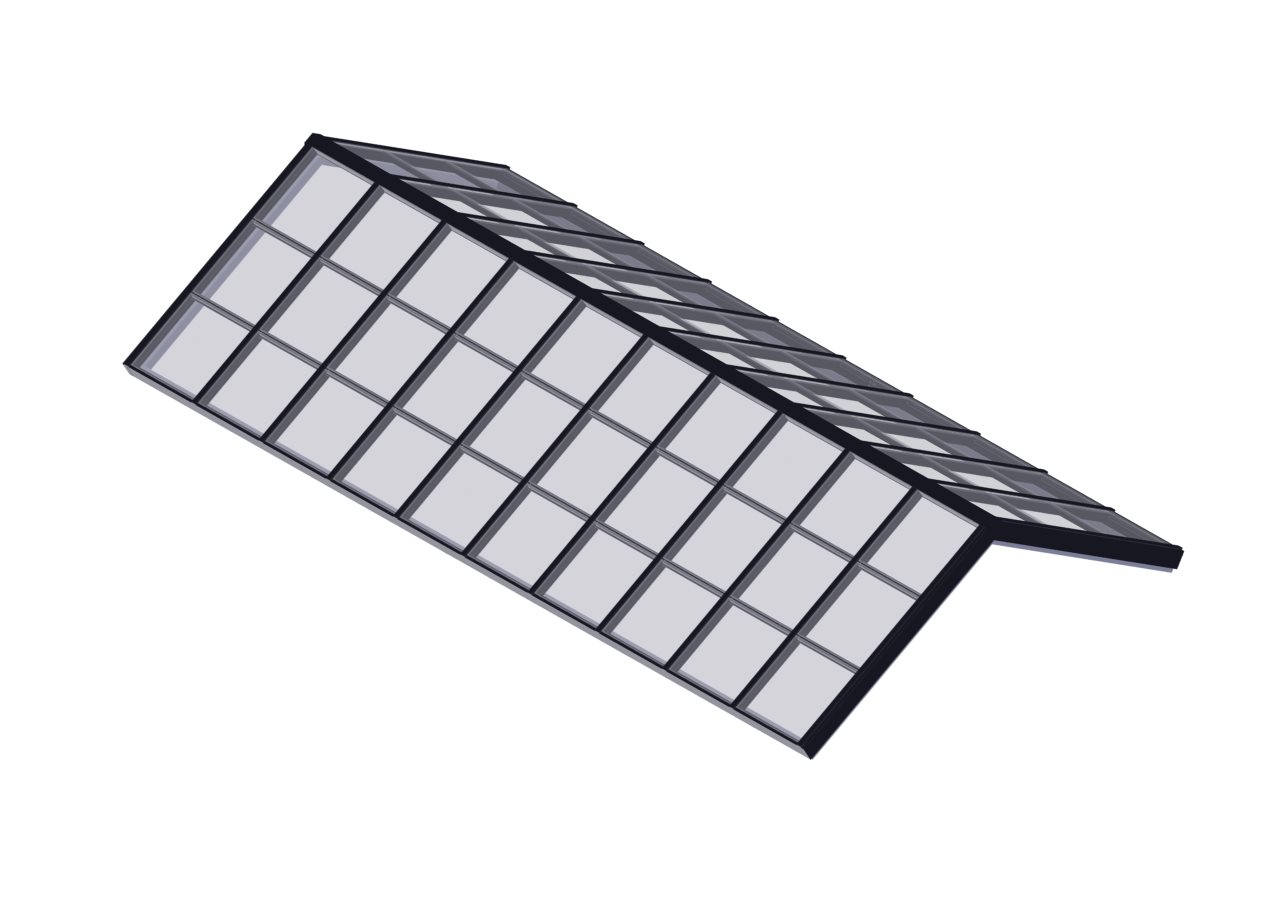 Structural Ridge – Glass
Wasco's structural ridge metal-framed skylight structures offer virtually unlimited design possibilities for a fully customized configuration. Our Pinnacle framing systems support spans of up to 40' wide and unlimited lengths. Available with a wide choice of high performance glazing and finish options.
Download BIM Models for Revit®
Models 350SRG, 600SRG, 900SRG
Revit Family RFA   |   Details RVT   |   View on BIMobject
Finish Options
Click color swatches below to preview.
2605 FEVE Powder Coat, 2605 PVDF, and 2604 Powder Coat colors shown. Anodized colors also available.

Aged Copper

Black

Bone White

Brick Red

Colonial Grey

Colonial White

Hartford Green

Interstate Green

Quaker Bronze

Sandstone
Framing Options

Sizes

Glass Glazing Options

Finish Options
Pinnacle System
For spectacular large-scale custom structures spanning up to 40 feet, at any pitch you desire between 15° and 60°.
With its variable-pitch hinge design, the Pinnacle Systems offer you the versatility of a custom configured structural skylight system with the reliability and cost savings of standardized engineering, construction and installation. Fast on-site assembly and installation. Spans up to 40 feet, at any pitch you desire between 15° and 60°.
Fewer parts, faster on-site assembly
Narrow profiles provide clean lines
Larger span capability
Available in Hurricane Resistant
Quicker Installation
Components always assemble the same consistent way. Sills encompass the entire perimeter so installers rely less on sealants.
Leak-Resistant
Continuous sill enclosure around skylight perimeter helps reduce air infiltration through weep holes and effectively guards against water intrusion. Thermally-enhanced construction.
Concealed Fasteners
Through bolt fastening system further eases installation, providing a clean, aesthetically pleasing look on both the interior and exterior.
Framing System
Supports Spans Up To (Approximate)*
Aluminum Rafter Tube Depth
Pinnacle 350
18′ Wide
3.5″
Pinnacle 600
30′ Wide
6″
Pinnacle 900
40′ Wide
9″
Pinnacle HU (Hurricane)
15′ Wide
3.5″ or 6″
*Approximate span widths depending on configuration and load. Contact your local sales representative for more information.
HU tested to meet 80 psf design pressure, and small and large missile impact. Available with laminated or insulating glazing.
Typical glazing is insulated glass comprised of a tempered outboard lite and an annealed or heat strengthened laminated safety glass inboard lite.
Also available with Hurricane Rated or Translucent Polycarbonate glazing
Wasco's

Dynamic Glazing Series

includes:

Electronically Tintable Glass
BIPV
Translucent Insulated Glass
Translucent Insulated Glass with

Lumira

® Aerogel
VELUX Commercial skylight structures are available in a broad range of colors and finishes:
Mill (Standard)
2605 FEVE Powder Coat, 2605 PVDF, 2604 Powder Coat, and Anodized (more information)
Copper Clad