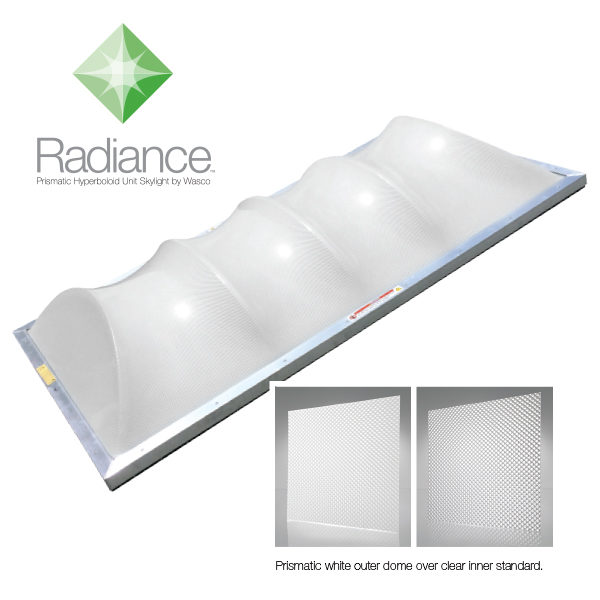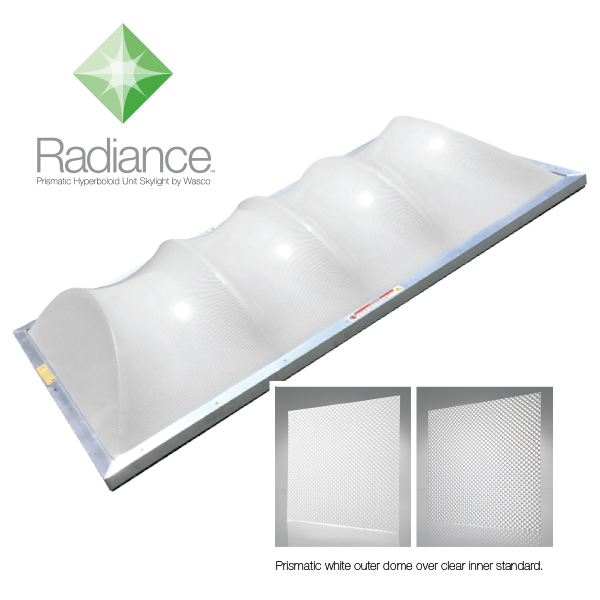 Radiance™ – Prismatic Hyperboloid Unit Skylight
Wasco's Radiance Series skylights let in more daylight, while providing the optimum level of diffusion to eliminate hot spots. Its hyperboloid shape provides glare-free natural light at all times of the day, reducing the need for electric lighting.
Radiance's one piece extruded vinyl curb frame incorporates a condensation channel, aluminum retainer frame, and double glazed prismatic IR blocking impact modified acrylic glazing that reflects solar radiation.
Double domed white over clear, impact modified, IR blocking acrylic
For use on 1½" thick site-built or prefabricated curbs
Unit fully assembled with stainless steel screws and high performance structural acrylic adhesive foam tape
Heat welded one-piece curb frame construction – heavy vinyl extruded curb frame, integral condensation gutter and counter-flashing downward leg
Aluminum extruded heliarc welded retainer frame
Find a Sales Rep
Login or Register

to Save Documents to Binder
Safety Considerations

Sizes

Glazes and Finishes

Performance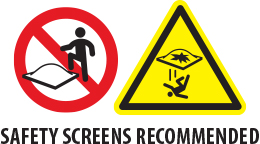 Wasco skylights are designed to withstand normal elements of the weather. They are not designed to withstand human impact or falling objects. These skylights should not be walked upon under any circumstances. The owner or designer should restrict access only to authorized personnel who have been adequately cautioned as to the location of the skylights and informed of the warning above, or said owner should provide protective guard rails or screens around the skylights.
| Model | O.D. of Curb |
| --- | --- |
| DDPRCS-5252 | 49 ¼" x 49 ¼" |
| DDPRCS-5555 | 51″ x 51″ |
| DDPRCS-5296 | 49 ¼" x 92 ½" |
| DDPRCS-55102 | 51″ x 99″ |
| DDPRCS-6678 | 63″ x 75″ |
Custom sizes available for larger quantities, contact your local representative or Wasco for more information.
Finish Colors
Frame finish is PVC, white interior and bronze exterior. Aluminum retainer frame.
Retainer Finish:
Mill (Standard)
Anodized, Kynar 500, Baked Enamel (more information)
Copper Clad
Glazing
Outer: White conical pattern prismatic impact modified sheet with infrared blocking additive.
Inner: Clear conical pattern prismatic impact modified sheet.
Meets DP30 or greater (DP20 per AC16)
Air infiltration:
<0.1 L/s/m² @ 6.24 psf when tested per ASTM E283 / AC16
Water Penetration:
No leakage @ 12 psf when tested per ASTM E547 / AC16
Code Compliance:
| | |
| --- | --- |
| Smoke Density | 16.5 per ASTM D2843 |
| Combustibility Classification | CC2 per ASTM D-635 |
| Self-Ignition Temperature | >850 per ASTM D-1929 |
Glazing Values:
VT:     73% per ASTM D1003
SHGC:    0.58 per NFRC 200
U factor:    0.59 per NFRC 100