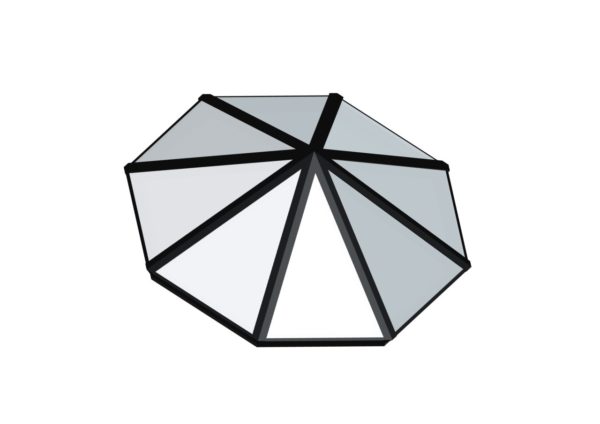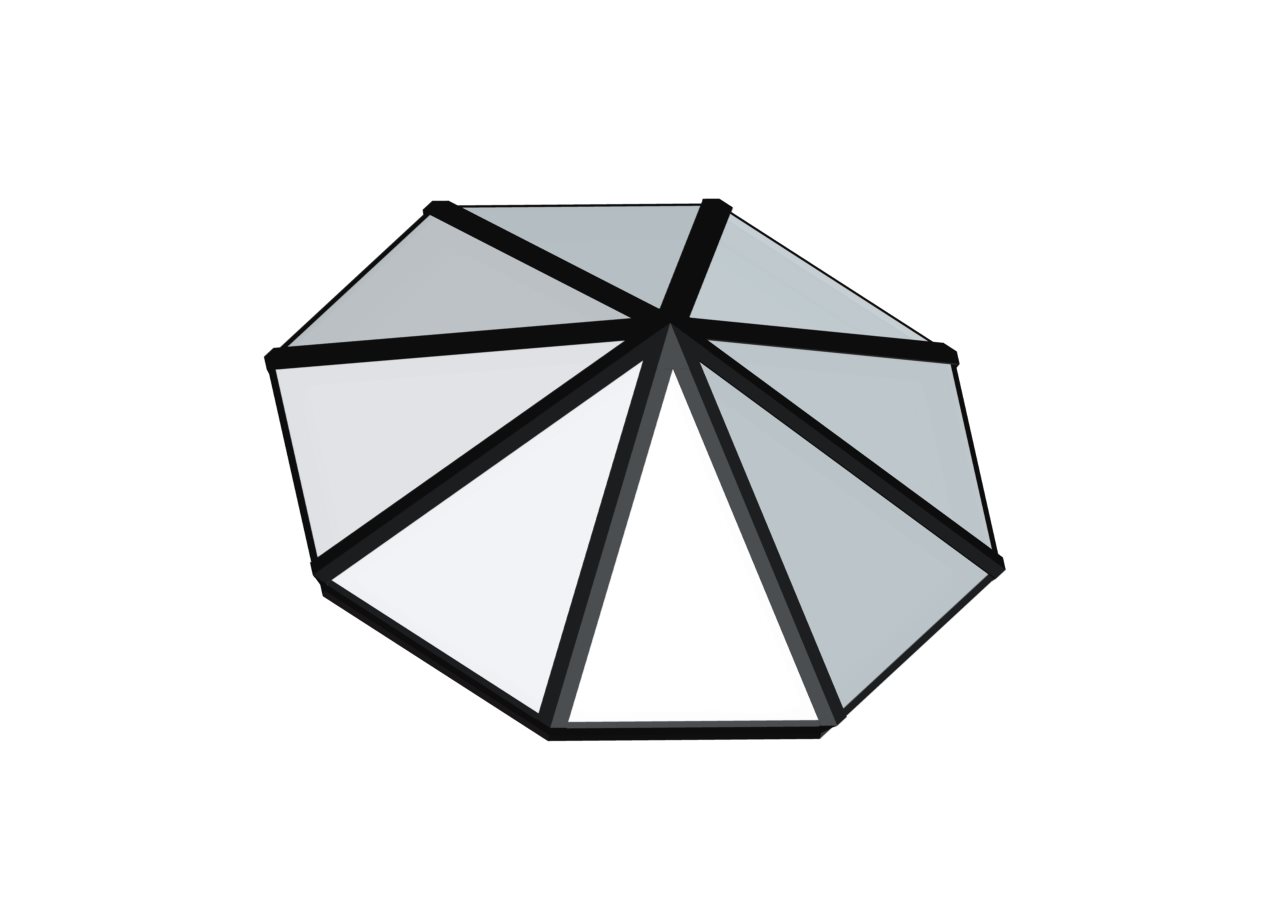 Octagonal Pyramid – Polycarbonate
Wasco's octagonal pyramid metal-framed skylight structures with multiwall polycarbonate panels offer virtually unlimited design possibilities for a fully customized configuration. Our Classic and Pinnacle framing systems support spans of up to 40' wide. Available in a wide range of finish options.
Reduces labor and material costs in both new construction and renovation projects
Excellent UV protection
Available with Lumira® Aerogel for superior thermal performance
Finish Options
Click color swatches below to preview.
Kynar and Baked Enamel colors shown. Anodized colors also available.

Aged Copper

Black

Bone White

Brick Red

Colonial Grey

Colonial White

Hartford Green

Interstate Green

Quaker Bronze

Sandstone
Framing Options

Sizes

Polycarbonate Glazing Options

Finish Options

Performance
Classic System
Our light-framed, economical Classic System can ship preassembled and preglazed.
With insulating glass and a thermally broken perimeter sill, the fully thermalized Wasco Classic structural system offers architects unlimited options for dramatic, cost-effective designs.
Components are prefabricated for easy installation on site
Designed for pyramids up to 6'6"x6'6" and double pitch and hipped end units up to 5 feet wide by unlimited length
Versatile curb-mount design using site-built curbs for both pitched and flat roof applications
Standard pitches available include 5:12, 7:12 and 12:12
Concealed fasteners and narrow framing members for clean, aesthetically pleasing appearance
Integral condensation gutters drain water to the exterior for full moisture control
Urethane thermal break incorporated around perimeter to minimize condensation on aluminum components
One of the industry's first light-framed skylighting systems capable of utilizing today's high performance glazings
Pinnacle System
For spectacular large-scale custom structures spanning up to 40 feet, at any pitch you desire between 15° and 60°.
With its variable-pitch hinge design, the Pinnacle Systems offer you the versatility of a custom configured structural skylight system with the reliability and cost savings of standardized engineering, construction and installation. Fast on-site assembly and installation. Spans up to 40 feet, at any pitch you desire between 15° and 60°.
Built to order from stock for shorter lead times
Fewer parts, faster on-site assembly
Narrow profiles provide clean lines
Larger span capability
Available in Hurricane Resistant
Quicker Installation
Components always assemble the same consistent way. Sills encompass the entire perimeter so installers rely less on sealants.
Leak-Resistant
Continuous sill enclosure around skylight perimeter helps reduce air infiltration through weep holes and effectively guards against water intrusion. Thermally-enhanced construction.
Concealed Fasteners
Through bolt fastening system further eases installation, providing a clean, aesthetically pleasing look on both the interior and exterior.
Framing System
Supports Spans Up To (Approximate)*
Aluminum Rafter Tube Depth
Classic
6′ Wide
0.375″
Pinnacle 350
18′ Wide
3.5″
Pinnacle 600
30′ Wide
6″
Pinnacle 900
40′ Wide
9″
*Approximate span widths depending on configuration and load. Contact your local sales representative for more information.
Standard glazing of 25mm multiwall polycarbonate panels in Opal, Opal IR, Clear or Bronze. Lumira® Aerogel filled panels are available for greater thermal performance. Other colors and panel thicknesses are available, contact your local sales representative for more information.
Wasco skylight structures are available in a broad range of colors and finishes:
Mill (Standard)
Anodized, Kynar 500, Baked Enamel (more information)
Copper Clad
Test Method
Results/Comments
Flammability
Flame Spread
25mm Panel
ASTM E-84 / UL 723
5 Flame / 75 Smoke
Smoke Developed
IBC Class: CC1 Rated
Burn Extent
25mm Panel
ASTM D-635
CC1 – less than 1"/minute
Self Ignition Temperature
25mm Panel
ASTM D-1929
>650 deg F
Structural
OSHA Fall Protection
Complete System
OSHA (CFR) 29 part 1926
Passed – 800ft/lb impact load
Structural Performance
Complete System
(Job Specific Engineering Calculations will be provided)
Infiltration
Air Infiltration
Complete System
ASTM E-283
<0.01 cfm/ft² @ 6.2psf
Water Penetration
Complete System
ASTM E-331
No Water Penetration @ 15psf
Performance Data
U-factor
25mm Panel
NFRC-100
Opal IR Panel
Solar Heat Gain Coefficient
25mm Panel
NFRC-200
Opal IR Panel
Visible Light Transmission
25mm Panel
NFRC-202
Opal IR Panel
 Colors – Standard*
 LT
 SHGC
 U-Factor
Opal IR (Infrared Blocking)
24%
0.37
0.36
Clear
72%
0.78
0.34
Opal
35%
0.51
0.34
Bronze
35%
0.51
0.34
Opal with Lumira Aerogel
27%
0.40
0.11
Clear with Lumira Aerogel
59%
0.61
0.11
Warranty
 Test Method
 Results/Comments
10 Years
ASTM D-1925
Yellowing, Loss of Light Transmission Compared to original value
<6 Delta E after 10 Years
<2% Light Transmission after 10 Years
*Other colors and panel thicknesses are available, contact your local sales representative for more information.