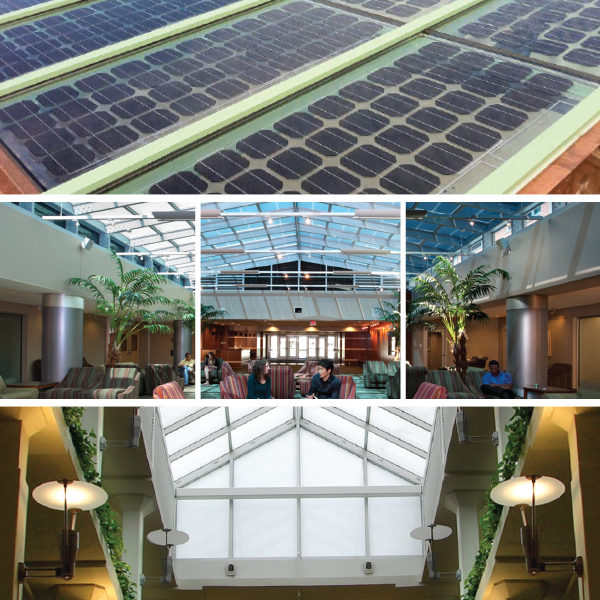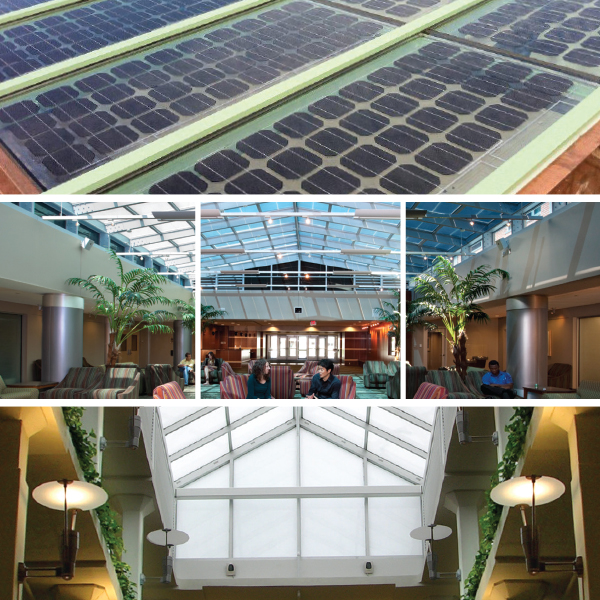 Advanced Glazing Technologies
Advanced Glazing Technology for Maximum Control, Comfort & Efficiency
Maximize All the Benefits of the Sun without the Glare, Heat Gain and Fading.
Wasco's Advanced Glazing Series allows you to harness all the positive benefits of natural daylight without suffering the undesirable effects such as excessive heat gain, glare and fading.
Wasco has a complete line of technologically advanced glazing solutions to provide  maximum design versatility and optimum daylighting for multiple applications.
Find a Sales Rep
Electrochromic Glass – SageGlass

BIPV

Translucent Insulated Glass – Solera

Triple-Glazed Glass
SageGlass®
SageGlass is an electronically tintable glass that can be switched from clear to a dark tint at the click of a button, or programmed to respond to changing sunlight and heat conditions. Energy consumption and costs are greatly reduced. SageGlass products offer significant advantages over conventionally glazed products because they provide the highest possible solar control without sacrificing the view through the glass.
Improves building energy performance
Eliminates need for shades or louvers
Enables more sustainable building design and construction
LEED® Credit Information Download PDF
| PRODUCT | COG U-VALUE | R-VALUE | SHGC | VT |
| --- | --- | --- | --- | --- |
| SageGlass Clear State | 0.28 | 3.57 | 0.48 | 62% |
| SageGlass Tint State | 0.28 | 3.57 | 0.09 | 3.5% |
Mono-Crystalline or a-Si Thin Film
Photovoltaic (PV) Glass is used as an energy-generating device, capturing the sunlight and transforming it into electricity.
By providing the same thermal performance as a conventional glass, along with clean, free electricity from the sun, buildings can drastically improve their energy efficiency, decrease O&M costs, and reduce their carbon footprint.
PV Glass lets natural light in and also provides thermal and sound insulation, filters 99% harmful UV radiation, and up to 95% IR radiation.
It can be customized in shape, color, size, thickness, and semi-transparency degrees, easing its integration within any project and design.
PV Glass works as a revenue-accelerator, since it is the only building material that pays off with long term energy savings, tax credits and incentives.
Solera®
Solera is a line of translucent insulated glass units that are used in architectural daylighting to provide highest quality diffuse daylight. Solera converts harsh direct beam sunlight into soft diffuse daylight while allowing you to design your desired light level. Solera Glazings are engineered to provide higher light diffusing power.
Solera® L – 1" Insulated glass
Solera® T – 3" Insulated glass
Solera® with Lumira® Aerogel
Solera with Lumira is a daylighting strategy that dramatically improves thermal performance making an extraordinary product even better. The inclusion of Lumira® aerogel in daylighting systems virtually eliminates the historical trade-off of insulation vs. natural light by dramatically improving thermal performance. What is Lumira Aerogel?
| PRODUCT | COG U-VALUE | R-VALUE | SHGC | VT | ADDITIONAL COMMENTS |
| --- | --- | --- | --- | --- | --- |
| Solera L | 0.45 | 2.22 | 0.58 – 0.14 | 62%–13% | |
| Solera T | 0.20 | 5 | 0.51 – 0.12 | 55%–10% | |
| Solera T – Lumira® Aerogel Filled | 0.05 | 20 | 0.31 | 32% | High End |
| Solera T – Lumira® Aerogel Filled | 0.05 | 20 | 0.14 | 15% | Low End |
Solarban® 60 Solar Control Low-E Glass by PPG is engineered to control solar heat gain, which is essential to minimizing cooling costs. This triple-glazed configuration with warm edge technology is an economical alternative to our other energy efficient Advanced Glazings.
| PRODUCT | COG U-VALUE | R-VALUE | SHGC | VT |
| --- | --- | --- | --- | --- |
| Triple Glazed Dual SB60 Argon | 0.12 | 8.33 | 0.30 | 56% |