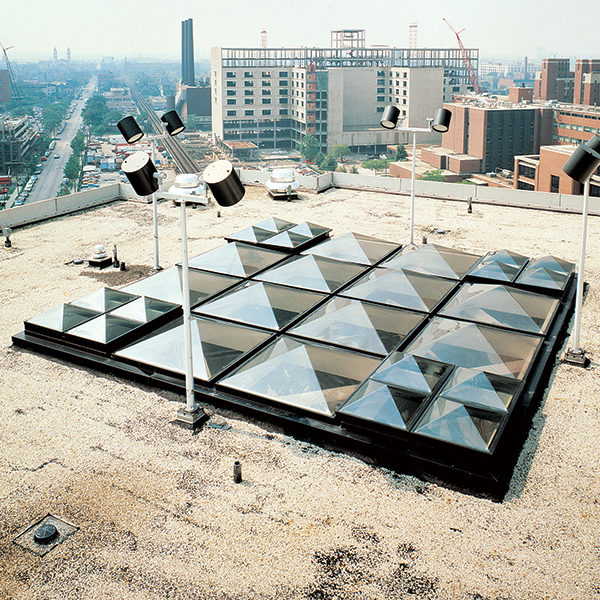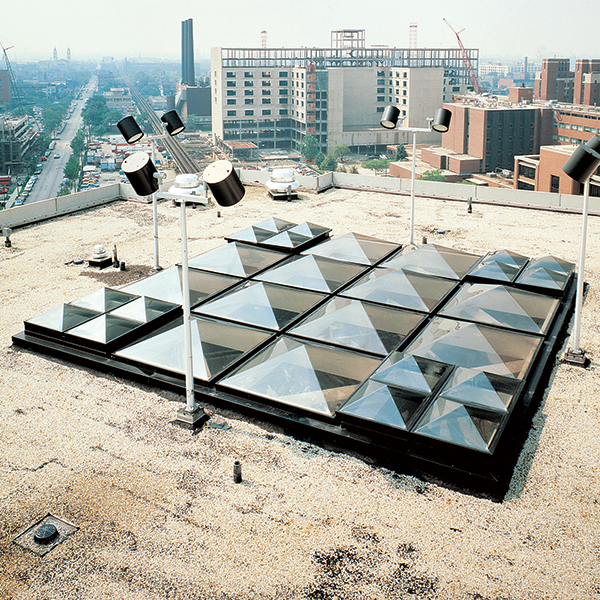 Cluster and Extruded Gutter Systems
Wasco's Cluster Systems (CL, CLDD) allow for the creation of dramatic skylighting over large enclosures, utilizing site-built structural grid supports on flat roof applications.
An Extruded Gutter configuration (EG, DDEG) is available for applications in which extra water carrying capacity is required or if continuous vaults are to be joined.
Cluster and Extruded Gutter Systems require a minimum of ¼" per foot slope to properly drain water.
A dramatic accent above stairs or a rugged canopy for a covered walkway
Safety Considerations

Cluster Systems

Extruded Gutter Systems

Glazes and Finishes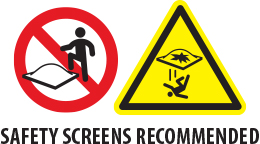 Wasco skylights are designed to withstand normal elements of the weather. They are not designed to withstand human impact or falling objects. These skylights should not be walked upon under any circumstances. The owner or designer should restrict access only to authorized personnel who have been adequately cautioned as to the location of the skylights and informed of the warning above, or said owner should provide protective guard rails or screens around the skylights.
CL model single standard dome cluster skylight
CLP model single pyramid dome cluster skylight
CLDD model double standard dome cluster skylight
CLPDD model double dome pyramid dome cluster skylight
EG model curb-mounted extruded gutter system, plastic glazed single standard dome unit skylights
EGP model curb-mounted extruded gutter system, plastic glazed single pyramid dome unit skylights
DDEG model curb-mounted extruded gutter system, plastic glazed double standard dome unit skylights
DDEGP model curb-mounted extruded gutter system, plastic glazed double pyramid dome unit skylights
Glazing Options
Outer:
Inner:
Finish Options
Mill (Standard Finish)
Anodized – Clear, Bronze (Dark, Medium or Light)
Kynar (Various colors)
Baked Enamel (Various colors)