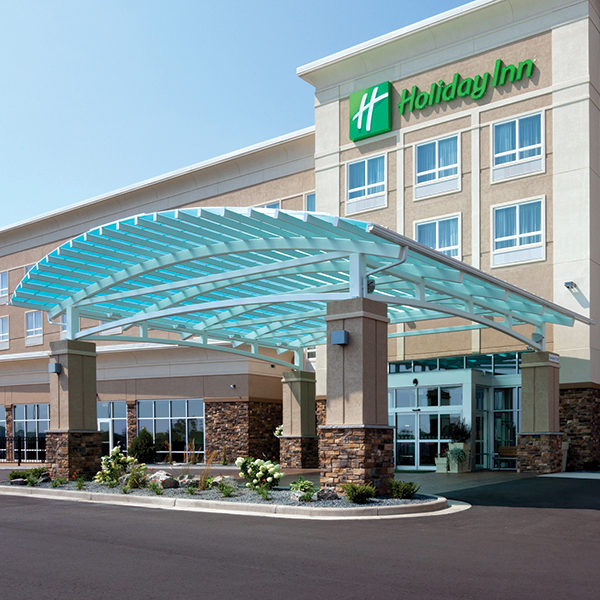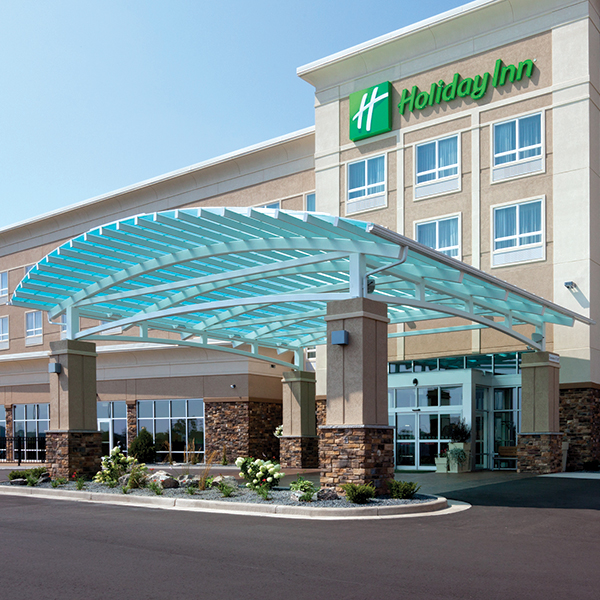 Canopy Systems – Horizon C-Series
An Economical Solution to Your Custom Low Slope Canopy Designs
Wasco's Horizon C-Series Canopy Systems features custom canopy designs with multiwall polycarbonate. This canopy system has a 20mm standing seam polycarbonate batten panel assembly, utilizing concealed stainless steel clips for attachment to the support structure. Standard panels up to 39′ in length, with snap on battens, eliminate exposed fasteners, gaskets, sealants and horizontal joints, providing an extremely attractive, weather tight system.
Our multiwall polycarbonate material is lightweight, impact resistant and can be cold curved which makes it an ideal choice for commercial and industrial pavilions and walkways.
Self supporting aluminum framing systems are available, or the system can be installed on support by others. Available as fixed sill, adjustable sill or skin systems.
Available in various panel colors and configurations, with a 10 year system warranty, the Horizon C-Series Canopy System by Wasco is a top choice of design professionals throughout the United States.
Wasco is a leading innovator in high-performance translucent custom canopies, shelters and outdoor structures. Our design team, engineers, and fabricators will custom design and build around your specifications.
Wasco Standing Seam Translucent Multiwall Polycarbonate Panel Systems:
For Shelters, Entrances, Covered and Enclosed Walkways
UV Stable
High Impact Resistance
Long-Span Aluminum System
Fixed Sill, Adjustable Sill or Skin Systems
Modular Panel System
Simple Installation
Pleasant Natural Daylight Transmission
Find a Sales Rep
Login or Register

to Save Documents to Binder
Finishing
Bronze and Clear Anodized Wasco aluminum framing systems stocked. All other Wasco finishes also available, contact your local sales representative for more information.
Glazing
Clear, Clear IR, Opal, Opal IR, Green, Blue and Bronze stocked. Other glazing options available, contact your local sales representative for more information.