OSHA Fall Protection
Wasco Fall Protection units comply with OSHA Fall Protection Regulations
Fall protection was established by OSHA to provide a safe and healthful working environment and to limit falls from workers or tools from heights of 6' or greater. OSHA regulations state that every skylight must be guarded by a standard skylight screen or fixed railing system that is capable of withstanding a load of at least 200 pounds.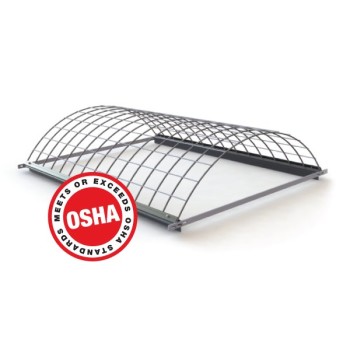 Wasco fall protection units are engineered to resist a 800 ft. lb. impact without the use of metal grids or screens, providing outstanding impact-resistant safety that complies with and exceeds OSHA fall protection regulations.
Tested to compliance with AAMA\WDMA\CSA\101\I.S.2\A440 as required by the International Building Code
Tested to 800 ft-lbs to comply with the intent of OSHA fall protection regulation 29 CFR 1910.23 (e)(8)*, Cal-OSHA Title 8, Chapter 4, Section 3212(e)(2)
Available in both curb-mount and deck-mount configurations.
Provided with impact modified acrylic double domes or pyramids depending on size required.
Offered in various glazing color combinations.
Unit skylight safety screens are also available for permanent or temporary protection.
0.19" gage 4" x 4" welded wire mesh
Meets the intent of OSHA 29CFR 1910.23
Adjustment range of 4" in width for easy installation
Allows to be installed with no penetration of skylight