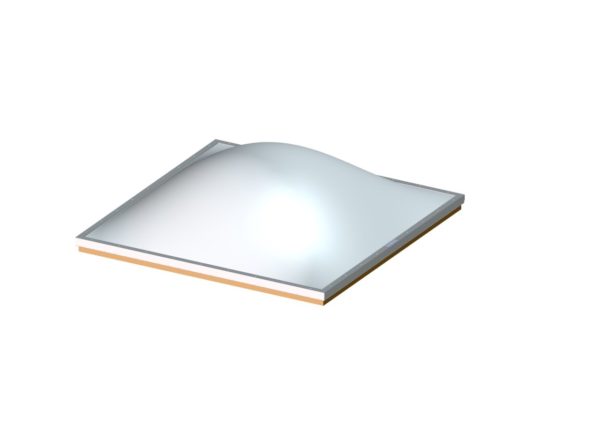 Domed Unit – Blast Resistant
Blast Resistant Glazing
Provided with co-polyester to meet test requirements: ASTM–F1642–04, GSA–TS01–2003.
Available in sizes up to a model 5276.
Curb Mount
For use on 1-1/2″ thick site-built or prefabricated curbs
Unit is fully assembled with stainless steel screws and high performance weather seals
Heat welded one-piece curb frame construction: heavy vinyl extruded curb frame with co-extruded weather seals, integral condensation gutter and counterflashing downward leg
Aluminum extruded heliarc welded retainer frame
Optional copper cladding available
Safety screens available
Find a Sales Rep
Login or Register

to Save Documents to Binder
Glazes and Finishes

Standard Sizes
Glazing Options
Outer:
Inner:
Finish Options
Frame finish is PVC, white interior and bronze exterior. Aluminum retainer frame.
Retainer Finish:
Mill (Standard)
Anodized, Kynar 500, Baked Enamel (more information)
Copper Clad
| Model | O.D. of Curb |
| --- | --- |
| DDCSBR–2828 | 25 ¼" x 25 ¼" |
| DDCSBR–2836 | 25 ¼" x 33 ¼" |
| DDCSBR–2852 | 25 ¼" x 49 ¼" |
| DDCSBR–3636 | 33 ¼" x 33 ¼" |
| DDCSBR–3652 | 33 ¼" x 49 ¼" |
| DDCSBR–3676 | 33 ¼" x 72 ½" |
| DDCSBR–4242 | 40″ x 40″ |
| DDCSBR–4280 | 40″ x 78″ |
| DDCSBR–5252 | 49 ¼" x 49 ¼" |
| DDCSBR–5276 | 49 ¼" x 72 ½" |